G2000 Grippersystem
Based on Gillet´s G2000 auxiliary bars and gripper toolings, we offer you the completely portfolio from designing to set up and improvement at the press of the gripper toolings.
With help of your 3D data we offer the design from the handling of the press parts in the press. We consult hand in hand from the beginning with your new die design. An improvement of the die design regarding collision, allows an higher performance and helps saving money in the design of the gripper tooling.
G2000 auxiliary bars
G2000 gripper tooling
Vacuum and spider technology
Accessory for transfer and automation (Sensoring, cabling, pneumatic valves, a.s.o.)
Join the longstanding GILLET experience!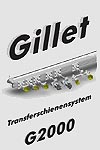 More Information>>